Call Centers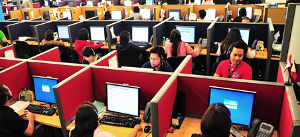 Open-Alt can provide small to large scale call center solutions to your organization. Starting from two agents in a single shift to hundreds of agents in multiple shifts, Open-Alt can provide a scalable service and solution that suits your organization's needs. 
Open-Alt uses open source Asterisk to implement calling queues, call recording, CTI and other call/service related functionalities. This gives our clients the opportunity to reduce costs without losing quality compared to other proprietary solutions.
Our solution can handle large amounts of inbound and outbound traffic, in a secure and reliable way, combining maximum efficiency with easy to use and intuitive interfaces. Separate campaigns can be setup, each of which running separately assigned scripts with graphical user interface for both the operators and the supervisors. By defining quotas, our clients can restrict calls to well defined target groups.
All call-center related statistics can be viewed in real-time. By using the predictive dialing functionality, operators waiting times can be significantly reduced, calls can be prepared on the server side and dropped to operators automatically. A separate application is used by call center operators as a sip client and database frontend, the Agent application. It has a simple VoIP client window where the operators are free to make calls to any number presented in the central database, it can handle automatic calls (will handle calls automatically if the operator is part of a campaign). 
Features : 
Call Forward All/Busy/No Answer
Call transfer (Attended / Unattended)
Call Waiting, Call Hold
Caller ID Block
Voicemail
Caller ID
RingGroups
Call Return